Insight's Ed Petrozelli Facilitates at 2016 Center for Services Leadership Symposium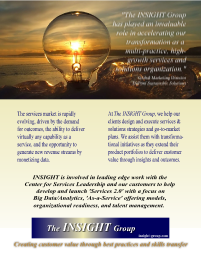 ---
Jay Connor joins The INSIGHT Group

2016-January - Jay Connor, former Senior executive with HP, Compaq, and Digital Equipment has joined The INSIGHT Group as a Partner. Jay has 37 years of executive, operational, and sales experience in the IT industry, will enhance INSIGHT's robust portfolio of executive skills. At Insight, Jay's broad experience will focus on providing solutions that best satisfy our clients' needs in the areas account and sales management, service and sales management, financial strategy, and mergers and acquisitions. More on Jay...
Read the Press Announcement here
---
Walt Howell joins The INSIGHT Group

2016-January - Walt Howell, former Senior executive with IBM Global Services, American Management Systems, Computer Associates, and Computer Sciences Corporation has joined The INSIGHT Group as a Partner. At INSIGHT Walt will bring his extensive experience and deep understanding of technology services and financial services to help customers build, transform and improve their ability to sell and win highly profitable mega-opportunities while building long term relationships. More on Walt...
Read the Press Announcement here
---
The INSIGHT Group is pleased to be a Sponsoring Partner for the ASU-Center for Services Leadership 2015 CTS Symposium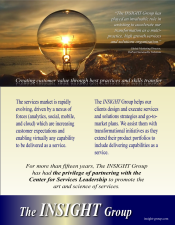 ---
Profiting from Services co-authored by Insight's Stephen Brown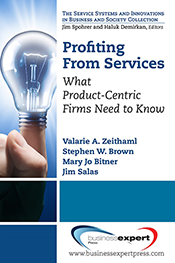 ---
Rich Lechner joins The INSIGHT Group

2015-January - Rich Lechner, former IBM Global Services Executive, has joined The Insight Group as a Partner. Rich has extensive global experience helping clients design and execute broad strategic initiatives with a focus on harnessing the transformative power of cloud, big data, and systems of engagement as they transition form products to services and solutions. At INSIGHT Rich, will focus on helping clients drive transformational initiatives by leveraging market insight, sales experience, technical expertise, and the ability to envision and communicate strategy. More on Rich...
---
Maryann Ciampa joins The INSIGHT Group

2015-January - Maryann Ciampa, former Vice-President and General Manager at Becton- Dickinson, has joined The INSIGHT Group as a Partner. Maryann has extensive experience with services start-ups in product-centric firms. Her expertise spans services and solutions strategy, solutions development, and services "go to market" models. At INSIGHT Maryann will also serve as mentor for developing high potential services talent and leaders. More on Maryann...
---
Other News and Announcements...
Why Services & Solutions is a Really Big Deal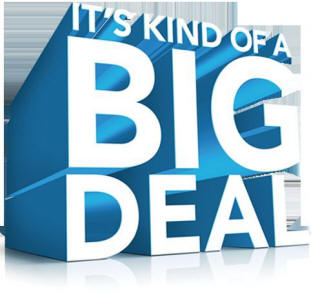 2016-July - by Ed Petrozelli. Over the past 20 years, many product and distribution companies across multiple industries have invested in building and buying services businesses. The IT industry took the lead with IBM creating a Global Services Business which over time grew larger in revenue and profit than its core product business (IBM in 2015 Services = $49 billion vs systems hardware = $7.6 billion). In addition to organic growth, the transition was accelerated with major ...(more)
---
Beyond Products: Innovating & Diversifying in Healthcare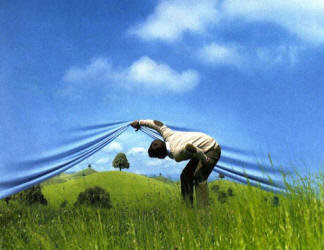 2016-May - by Maryann Ciampa. Healthcare reform is accelerating the transformation of the U.S. healthcare industry from a volume to value-based marketplace. To deal with these new value-based models, hospitals are exploring new models of operations, new payment schemes, and ways to integrate patient care. As a result, hospitals are also looking for higher levels of patient and healthcare system value from their supplier partners.
In addition to effectively addressing these changing customer dynamics, ...(more)
---
Company Culture & Leadership Development: Keys for Transformation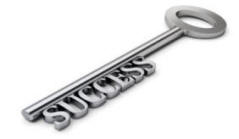 2016-June - by Bob Giacometti and Peter Lyons. Are you ready to transform your organization? The move by many firms toward services and solutions has created a rapid evolution in organizational models to support these transformations.
This often requires significant changes to not only how the business is managed, but also to the company's culture and how its people are engaged. By strengthening two critical areas, you can enable ...(more)
---
Managing Intellectual Capital for Services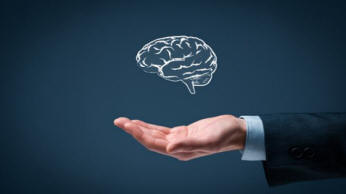 2016-March - by Tom Esposito. Intellectual capital is the combination of the Intellectual property (IP) held by a business and the people in that business that can exploit and increase it. An early (1994) use of the term defined the complement to IP as "what walks out of door at the end of the day". The term became more widely known in the context of assessing the wealth of organizations. A metric for its value is the amount by which the market value of a firm exceeds its tangible (physical ...(more)
---
Aligning Business Model & Culture to Maximiize the Analytics Opportunity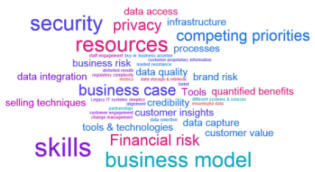 2015-December - by Ed Petrozelli. In a recent blog post, "Analytics in Services: Actions versus Talk", we reviewed how companies are applying big data and analytics for both internal and external uses. That review led to a survey and executive panel discussion at the November 2015 ASU Center for Services Leadership (CSL) Annual "Compete Through Service Symposium" where we further explored adoption rates, challenges, and lessons learned...(more)
---
Cultural Challenge Series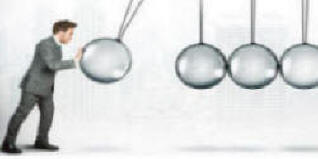 2015-August - by Tom Esposito & Peter Lyons. A multi-part series on cultural challenges, utilizing The INSIGHT Group's 10 Elements under its Solutions / Services Business Model Architecture.
As more product focused firms adopt an accelerated growth strategy using fee-based services & solutions, the number one inhibitor to profitable growth with high customer satisfaction is the desire to maintain their existing "product-driven" business model, culture, and business processes. The essence of a successful services business centers on two principles...
---
Account Planning: The Cornerstone of Strategic Account Management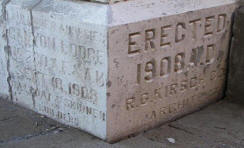 2015-October - by Mike Byrnes & Gus Maikish. While account planning is critical to successful strategic account management, it is only one of the elements necessary to achieve the desired results in an overall strategic/global account management strategy. Account planning can be used as a starting point to revamp a company's account management system. It is also the cornerstone of the account manager's business plan. ...(more)
---
Managing Services Acquisitions: 5 Key Elements for Success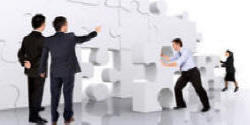 2015-July - by Michael Poehner. The cost of mismanaging acquisitions is very high and is well recognized. Yet, poorly managed processes pre and post acquisition are all too common, with greater than 50% of mergers & acquisitions in the U.S. ending in failure and a larger percentage having disappointing financial results. ...(more)
---
Six Keys to Success in Services: HR's New Role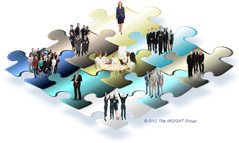 2015-June - by Bob Giacometti. Organizations and businesses are changing rapidly as they offer more customer valued professional services and solutions to enhance business results. As a result, there have been dramatic changes in organizational culture, services business processes, as well as how people lead and work in developing and implementing client solutions. These changes provide new opportunities for HR as a "strategic partner" - helping both... ...(more)
---
Selling Value-Added Services: What's working, What's not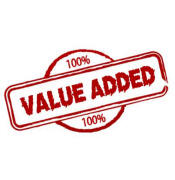 2015-June - by Mike Byrnes & Ed Petrozelli. Over the last several years, The INSIGHT Group has received feedback from almost 200 executives on 'what's working' and 'what's not' regarding selling and delivering value- added services and solutions in their companies. Here is what these executives shared with us:
What's not working? Over 50% of respondents said... ...(more)
---
Transforming into a Customer Solutions Business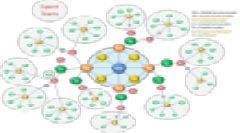 2015-June - by Tom Esposito & Peter Lyons. The power has shifted in the marketplace. The customer ecosystem is now the organizing entity; and the business model has become the competitive arena. To succeed, maybe even survive, companies need to learn how to operate a new solutions / services business model while simultaneously optimizing their existing business. As a CEO it's important to understand how this services business model works and how ... ...more
---
The Role of Culture as Businesses Shift from Products to Services/Solutions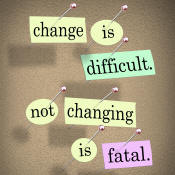 2015-May - by Mike Byrnes & Ed Petrozelli. The INSIGHT Group, DuPont and Arizona State University W.P. Carey School of Business conducted a study to understand the impact of cultural change on a product-focused company's ability to integrate services/solutions into its business model. The vast majority of the companies participating in the in the study indicated that cultural was a top element in their company's transition from product led to solution/ services led... ...more
---
Collaborative Leadership: The Top 10 Traits of Collaborative Leaders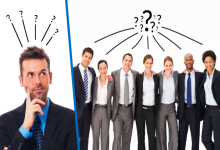 2015-May - by Bob Giacometti. Today, many product oriented companies are providing more fee-based services and solutions offerings to their customers to help grow revenue and profit as their product margins shrink. To develop and deliver these new offerings requires a number "expert" practice teams working with customers and others to solve client problems. This requires a highly collaborative leadership style... ...more
---
10 Keys to Leading a Strategic Account in the New World of Providing Value-Added Solutions and Services
2015-May - by Gus Maikish & Mike Byrnes.These are the 10 keys to successfully leading a strategic account in the new world of providing value–added solutions and services - not just products. ...more
---
Other Articles...
Company Culture and Leadership Development: Keys for Transformation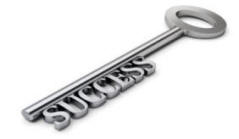 2016-June - by Bob Giacometti & Peter Lyons {White Paper}. Are you ready to transform your organization? Unlike more traditional hierarchies, many of today's transformed organizations look more like "virtual" networks of expert teams, formed to meet rapidly evolving customer needs. These teams of individuals, selected for their "customer valued" skills, solve problems more quickly, improving competitiveness for both client and firm alike. Download White Paper (PDF)
---
Mapping Capabilities to Customer Value: An Innovative Use of 'Voice of the Customer'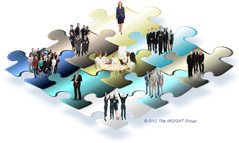 2015-November - by Michael Poehner & Denny Sigloh {White Paper}. All services offerings are not alike and span a broad spectrum. Many act and look like products… like most product entitlement services. Extended Warranty is a good example. As services become more strategic to the Customer they become more Customer supportive as opposed to product supportive. The chart below graphically depicts the migration of service capabilities/offerings as they become more Customer supportive and list the attributes which are affected, Culture being dominant. Download White Paper (PDF)
---
Human Resources: Strategic Partner for Services: 6 Keys for Success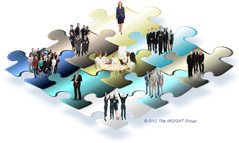 2015-June - by Bob Giacometti {White Paper}. Organizations and businesses are changing rapidly as they offer more customer valued professional services and solutions to enhance business results. As a result, there have been dramatic changes in organizational culture, services business processes, as well as how people lead and work in developing and implementing client solutions. These changes provide new opportunities for HR as a "strategic partner" - helping both managers and services professionals "put all the pieces together" to achieve their goals. Download White Paper (PDF)
---
Other White Papers