Managing Services Acquisitions:

5 Key Elements for Success
July 2015
by Michael Poehner, Managing Partner, The Insight Group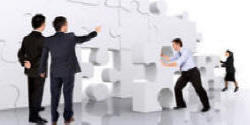 The cost of mismanaging acquisitions is very high and is well recognized. Yet, poorly managed processes pre and post acquisition are all too common, with greater than 50% of mergers & acquisitions in the U.S. ending in failure and a larger percentage having disappointing financial results.
The Cost
The statistics regarding M&A failure are staggering whether they come from Mercer, "BusinessWeek", Pritchett, HBR, McKinsey, AMA etc.; they are universally poor and vary only as to how poor:
50 - 60% eroded shareholder wealth
70 - 80% failed to meet expectations
Synergies are realized in only 30 - 40% of deals
Companies that pay solely with stock show the worst results
The Challenge
Services companies and services segments of product companies provide unique challenges in that the majority of the value in the company is embodied in the intellectual capital and client relationships of the employees. Consequently, resistance to change, morale issues, business process reconstruction and competitive raiding are real issues, which can sink the integration process.
Most companies view acquisitions and mergers as onetime events managed with heroic effort and something to quickly get finished, so everybody can get back to business…their real jobs. The executives need to view acquisition integration as a manageable process, not a unique event. Few companies go through this acquisition process often enough to develop a pattern for success.
The Solution: Best Practices
To increase the prospect of success, executives and the entire leadership team must:
View acquisition integration as a manageable process, not a unique event.
Choose the right leadership
Establish a well-defined and well-communicated plan to which the management team is fully aligned; recognizing challenges and taking quick actions
Provide open, direct communications, while seeking employee feedback
Take an Employee perspective; they understand there will be change—they want to understand how they are affected. Change should be positive and benefit the day-to-day activities of the employee.
---
INSIGHT's Unique Value - The consultants at INSIGHT each have in-depth, direct experience with Services acquisitions, having led companies or business units acquiring and/or being acquired; having worked with the processes of due diligence, integration and general management; having worked issues involving culture, leadership and human capital. Additionally, INSIGHT's proven end-to-end "Best Practice" methodologies--developed over 10 years--will help the executive team of any corporation achieve the synergy and growth potential envisioned for the acquisition.
If you would like more information on managing services acquisitions, contact Michael Poehner (mpoehner@insight-group.com )
---
Michael Poehner has extensive experience in business strategy development, market coverage strategies, sales management/marketing, Partnering Programs and acquisition & mergers. He led 5 acquisitions as part of the DMR growth strategy, including DMR Canada, ICL consulting UK,and Trecom in the USA. Michael had a distinguished 35-year career in the Technology and Services Business. He has held President/CEO and Senior Executive positions in a number of major Information Technology and Services Companies.

More on Michael at INSIGHT
---
The INSIGHT Group is a management consulting firm dedicated to assisting product-based companies implement high growth services and solutions business plans and strategies. We help clients design and execute broad transformational initiatives including go to market strategies as they extend their product portfolio to include delivering capabilities as a service. Our partners are experienced line executives with a proven track record of helping our clients transform from a product-focused company to services and solutions led company.