Monetizing Data and Analytics
November 2016
by Rich Lechner, Managing Partner, The Insight Group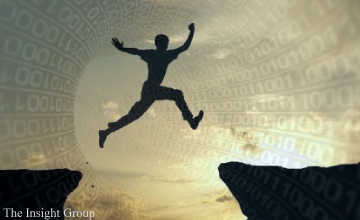 I've become obsessed with the question: Why are so few companies generating top line revenue growth by turning data and expertise into insights?
It seems that every organization is seeking ways to harness the power of 'big data and analytics' to increase the efficiency/efficacy of their operations and to deepen their relationships with customers. However, as previously documented ( "Aligning Business Model & Culture to Maximize the Analytics Opportunity), relatively few organizations have focused on developing new revenue streams through services which are based on data and analytics.
Crossing the Chasm
Over the past few months, The Insight Group has been interviewing senior executives from multiple forward-looking companies who are crossing the chasm to monetizing data and analytics through new services and solutions. They provide compelling examples of innovative new services such as: cultural analysis to predict safety performance, cognitive analytics to assess the impact of weather on business, location intelligence to inform critical business decisions, and technology-informed services to optimize advanced manufacturing. These organizations are driving top-line revenue growth, expanding their addressable markets, and creating new value for their customers.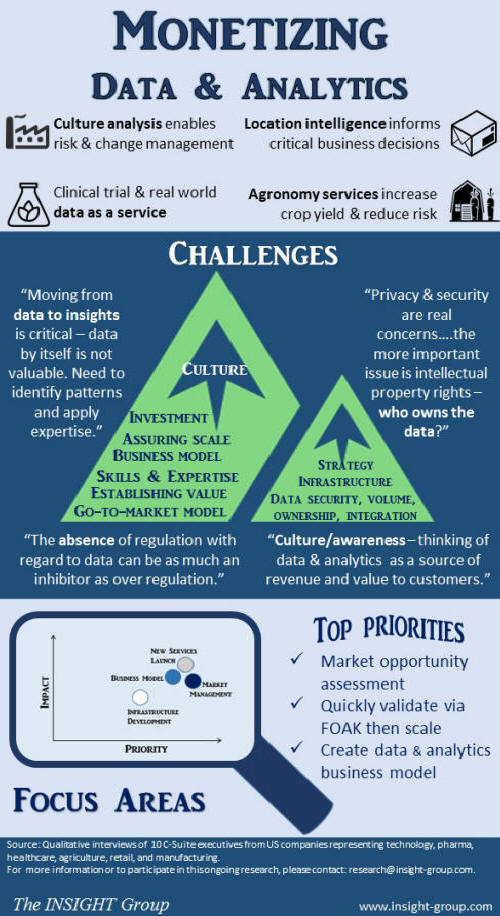 Whilst the data set is relatively small (10 US-based companies representing technology, pharmaceutical, healthcare, agriculture, retail, and manufacturing), some pervasive challenges and areas of focus have emerged.
Not surprisingly, culture tops the list, followed closely by the competition to garner the necessary investments in infrastructure and skills. While the challenge of acquiring and retaining skills was anticipated, the breadth of skills—far beyond data scientists to marketing, finance, and sales&was not. Just as services require a substantively different business model and go-to-market approach than products, embarking on a strategy to monetize data and analytics will demand a significant pivot for many organizations.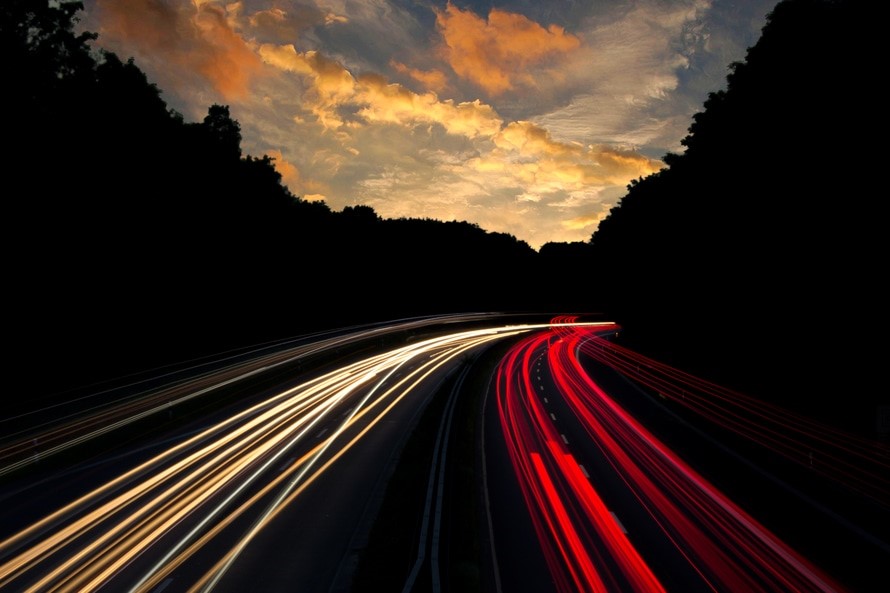 Fast Forward
The top priority for getting started was to perform a market assessment to understand what data has value— and to whom.
Having said that, almost every interviewee cited the risk of 'analysis paralysis' and the need to quickly launch and validate new offerings via a First of a Kind (FOAK) approach. Crafting a business model specific to data and analytics rounded out the top three actions.
Next Steps
The Insight Group is partnering with Arizona State University's Center for Services Leadership to further explore this topic. We have created a short quantitative survey and welcome your participation:
Monetizing Data & Analytics Survey.
In addition, we will be continuing our qualitative interviews. If you are interested in sharing your experiences and insights in this area, please contact: research@insight-group.com
---
If you would like more information on this topic, contact Rich Lechner (richlechner@insight-group.com)
Rich Lechner is a Managing Partner at The INSIGHT Group. Prior to INSIGHT, Rich worked for IBM, where he was responsible for the launch of a $3.5B energy and environment business that spanned 'green IT', intelligent buildings, sustainable operations, and smart urban infrastructure. At INSIGHT, Rich is focused on helping clients drive transformational initiatives by leveraging a potent blend of market insight, sales experience, technical expertise, and the ability to envision and communicate strategy.

More on Rich at INSIGHT
---
The INSIGHT Group is a management consulting firm dedicated to assisting product-based companies implement high growth services and solutions business plans and strategies. We help clients design and execute broad transformational initiatives including go to market strategies as they extend their product portfolio to include delivering capabilities as a service. Our partners are experienced line executives with a proven track record of helping our clients transform from a product-focused company to services and solutions led company.