Six Keys to Success in Services: HR's New Role
July 2015
by Bob Giacometti, Managing Partner, The Insight Group
Organizations and businesses are changing rapidly as they offer more customer valued professional services and solutions to enhance business results. As a result, there have been dramatic changes in organizational culture, services business processes, as well as how people lead and work in developing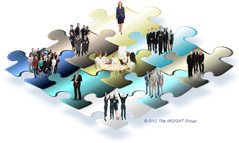 and implementing client solutions. These changes provide new opportunities for HR as a "strategic partner" - helping both managers and services professionals "put all the pieces together" to achieve their goals.
By strengthening and realigning the Six Key HR elements below, your HR team can help the organization fully utilize all the talents of your people - working collaboratively to solve client problems...
HR Strategy - aligning HR Strategy and Mission with the evolving business model
Talent and Skilled Resources Management - getting, developing and deploying top talent to customer opportunities
Employee Engagement and Performance Management: staff driven customer valued skills development and contribution
Compensation and Incentives - realigning pay with increased earnings opportunities for over-achievement
Transition and Integration - enhancing organizational capabilities through acquisition and smooth staff transitions
Collaborative Leadership - developing new leadership capabilities to inspire and enable the success of others
For a closer look at what is changing and how HR can help your evolving services and solutions organization achieve success sooner, follow the link below to get the full White Paper.
| | | |
| --- | --- | --- |
| | | |
| | | Download White Paper |
---
If you would like more information on the new role of Human Resources as a strategic partner for services, contact Bob Giacometti (giaco@insight-group.com )
Bob Giacometti has extensive "hands on" HR leadership experience designing and implementing new HR initiatives for highly successful services companies. Bob was the HR Executive for IBM Global Services and held key leadership roles during a 32 year IBM career. He was Vice President, National Action Council for Minorities in Engineering, and Vice President for Human and Financial Resources at the Rockefeller Foundation. Bob leads INSIGHT's HR/Talent Management Practice.

More on Bob at INSIGHT
---
The INSIGHT Group is a management consulting firm dedicated to assisting product-based companies implement high growth services and solutions business plans and strategies. We help clients design and execute broad transformational initiatives including go to market strategies as they extend their product portfolio to include delivering capabilities as a service. Our partners are experienced line executives with a proven track record of helping our clients transform from a product-focused company to services and solutions led company.