The Role of Culture
as Businesses Shift from Products to Services/Solutions

Part 2: Critical Success Factors
May 2015
by Mike Byrnes, Managing Partner, and Ed Petrozelli, President & Managing Partner, The Insight Group
The INSIGHT Group, DuPont and Arizona State University W.P. Carey School of Business conducted a study to understand the impact of cultural change on a product-focused company's ability to integrate services/solutions into its business model. In part 1, we reviewed the key challenges the 15 participating companies identified as their company's transition from product led to solution/ services led. The study also identified the top critical success factors.
Early Transition
Sponsorship by senior executives in the early stage was identified as key critical success factor. In fact, the absence of such support had prevented the company from beginning the journey in the past in spite of repeated events, and result in wasted investments
Mid Transition
At this stage, the top cortical factor was the need for mid-level champions in order to perpetuate the change through the company, particularly among front-line employees. Companies also began to develop service-oriented metrics.
Later Transition
Companies in advanced stages of transition had relevant metrics in place and were dealing with a larger challenge of overhauling company visions and values. Respondents here identified 'Services-minded values and vision' to be a key success factor, along with furthering the depth of their relationships with their customers.
Thirteen Critical Success Factors (CSF) to Cultural Change were identified in the study. The top 5 CSFs are illustrated in the graphic below.
Key Critical Success Factors to Cultural Change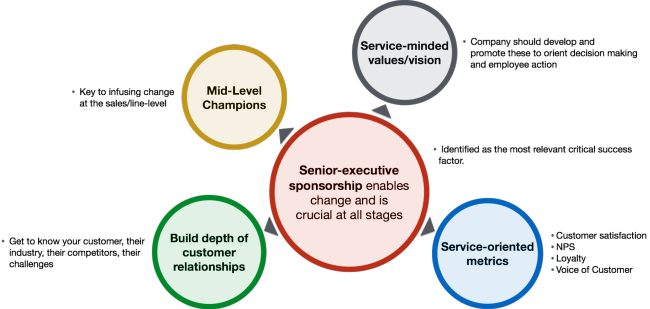 Conclusion
Firms that have achieved significant progress in cultural transformation and maturity have closer interaction with their clients and deeper relationships. To achieve that success, they have adopted service-minded values and vision, service-oriented metrics and have tied employee incentives to the success of the company and its customers. Additionally, change agents are crucial at all levels including senior-level management as well as mid-level champions without which any attempt to transition would be a false start.
| | | |
| --- | --- | --- |
| | | |
| | | Download White Paper |
---
If you would like more information on this topic, contact Mike Byrnes (mbyrnes@insight-group.com) or Ed Petrozelli (epetro@insight-group.com)
Mike Byrnes is INSIGHT's Strategic Account Management Practice Leader. He has consulted with a wide variety of organizations where he has assisted them in improving their global account management and revamping their services organization. He has over 35 years of experience in IT, sales, business strategy and management. Mike has been a speaker at the Strategic Account Management (SAMA) annual conference and led 2 joint studies with Arizona State University's Center for Services Leadership.

More on Mike at INSIGHT
Ed Petrozelli is INSIGHT's President & CEO, and is responsible for Business and Market Plan Development. Ed has led numerous consulting engagements with INSIGHT clients in the areas of strategy, go-to market plans, services initiatives, developing new business models, and global coverage structures. Prior to INSIGHT, Ed had a distinguished 30-year career with IBM where he served on the Senior Management Group and managed numerous Global business Units. Ed is a frequent speaker at industry events and he currently serves on the board of advisors of Arizona State University's Center for Services Leadership.

More on Ed at INSIGHT
---
The INSIGHT Group is a management consulting firm dedicated to assisting product-based companies implement high growth services and solutions business plans and strategies. We help clients design and execute broad transformational initiatives including go to market strategies as they extend their product portfolio to include delivering capabilities as a service. Our partners are experienced line executives with a proven track record of helping our clients transform from a product-focused company to services and solutions led company.