Transforming into a Customer Solutions Business

Part I: A Changing Business Landscape
June 2015
by Tom Esposito, Chairman, and Peter Lyons, Partner, The Insight Group
Summary
The power has shifted in the marketplace. The customer ecosystem is now the organizing entity; and the business model has become the competitive arena. To succeed, maybe even survive, companies need to learn how to operate a new solutions / services business model while simultaneously optimizing their existing business. As a CEO it's important to understand how this services business model works and how it can impact your transformation and accelerate the improvement / growth of your overall business.

1. Why Do This?
Today the competitive landscape involves different business models. Just ask yourself what industry does Google, Apple, Samsung and Amazon compete in? What does the term 'industry' even mean any more? This phrase and the mindset is all about companies, their value chains, and what they are selling. Moreover, there has been a steady deterioration in the margins / returns for 20,000 firms operating in this mode for the past five decades. The world today revolves around the customer ecosystem, which becomes the organizing entity and the focus for creating value with your company's capabilities.
Why is this happening? What's changed for your business and how you need to manage? …Just about everything! As Steve Denning* points out, we are going through an amazing set of economic and social changes. Everything we do is being reinvented – how we live, work, play, communicate, even how we think and feel. So instead of becoming more efficient at delivering products and services and pushing them at passive consumers through sales campaigns and advertising, firms must understand, anticipate and meet the needs, wants and whims of customers who are well-informed, empowered, and interacting among each other. As individuals we all want to be a market of one. The world has changed, but our management practices haven't.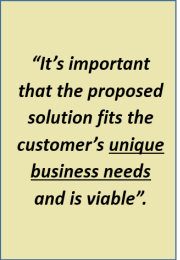 Is your business still focused on selling products instead of solving your customers' problems? Are you having trouble managing and motivating your employees? Are your margins deteriorating? Is it you, your workers, or the marketplace that's the issue? Guess what? It's all three! Let's start with the market; with very few exceptions, the power has shifted from the seller to the buyer. The customer is now in charge and your job is to delight them constantly. How about your employees; do you know enough about what they actually do to give them direction? Welcome to the world of the knowledge worker! Today's knowledge-workers are more aligned to the practitioners and professions model with decision-making authority in the customer engagement process. And finally you, the CEO; have you realized that your job is no longer command and control but a guide and assist model to acquire, train, enable, and retain a highly engaged professional workforce - liberating their energy and talents to create constant innovation and profitable growth one customer at a time?
Has your company experienced this changing services business landscape? What additional facets of this change have you encountered?
In part two of this article, we elaborate on how the solutions/services business model is different than the traditional product-centric organization, how it works, and how to impact this transformation.
Part II: Operating the Services / Solutions Business Model
| | |
| --- | --- |
| | 1. Steve Denning's Remarks at the opening session of IBM sponsored Radical Management Book Club, January 28, 2014. |
---
If you would like more information on this topic, contact Tom Esposito (esposr@insight-group.com) or Peter Lyons (pflyons@insight-group.com)
Tom Esposito is Chairman and Founder of The Insight Group. Prior to INSIGHT, Tom had a distinguished career at IBM with a broad range of responsibilities, including senior executive positions in organization and management systems, marketing, and services where he was Vice President of Global Consulting and Services and Chairman of the Services Executive Council. Tom is credited as one of the key architects of IBM's Global Services business, which today is IBM's largest & fastest growing business.

More on Tom at INSIGHT
Peter Lyons heads the Executive and Leadership Development practice at INSIGHT. He has extensive experience as a business coach and practice leader. Peter spent 10 years in DuPont's in-house business consulting organization where he led both the Strategy Execution and Services Business Growth practices. He helped design and deliver a Six Sigma-based Marketing and Innovation Process Champion training program to hundreds of marketing and technology executives, a leadership certification program designed to train the future leaders of DuPont.

More on Peter at INSIGHT
---
The INSIGHT Group is a management consulting firm dedicated to assisting product-based companies implement high growth services and solutions business plans and strategies. We help clients design and execute broad transformational initiatives including go to market strategies as they extend their product portfolio to include delivering capabilities as a service. Our partners are experienced line executives with a proven track record of helping our clients transform from a product-focused company to services and solutions led company.