ASU/CSL "Compete Through Service" Symposium - 2015

The INSIGHT Group is pleased to again serve as a Sponsoring Partner,
hosting main-tent session on Analytics
September 2015
by Ed Petrozelli, President & CEO, The Insight Group

The Compete through Service Symposium will be held in Scottsdale, Arizona, November 4 - 6, 2015. In addition to again serving as a sponsoring partner, The INSIGHT Group will host and facilitate the main-tent session, 'Generating New Service Revenues through Analytics'. here
'Generating new services revenues through analytics'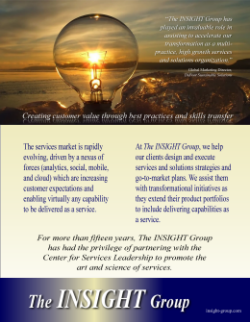 Overview / Abstract
The use of analytics is exploding. Although there has been much conversation on applying analytics to improve operational efficiencies and reduce risk, there has been too little insight on using analytics as a new revenue source.
The objective of this executive panel discussion is to share experiences and 'lessons learned' from leading companies that have successfully used analytics to grow services revenue. Company leaders will discuss their approaches in using analytics and big data to grow their services business and add more customer value to their services and solutions offerings. The executives will also comment on new and emerging business models, leveraging new sources of data such as 'internet of things', critical success factors, and how to launch an analytics business. The session will also feature a services analytics offering framework, survey results from CSL member companies, plus question and answer period.
Executive Panelists: (4 plus moderator)
Ed Petrozelli, President of INSIGHT Group will introduce topic, review offering framework and CSL member company and attendee survey results. The survey is intended to baseline current status, plans and issues for using analytics with an emphasis on growing revenue.
Jagannath Rao
President,
Customer Services Division
Siemens Industrial

Daniel Gutwein
Director,
Retail Analytics
Intel

Jeff Rowe
Vice President,
Strategic Services & Markets
DuPont / Pioneer Seed

Mark Peterson
Global Partner,
Predictive Analytics / Internet of Things
IBM
For more information on the Center for Services Leadership and CTS Symposium....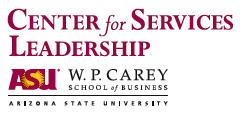 | | | |
| --- | --- | --- |
| | | |
| | | View Insight Sponsor Ad |
---
If you would like more information on this topic, contact Ed Petrozelli (petro@insight-group.com)
Ed Petrozelli is INSIGHT's President & CEO, and is responsible for Business and Market Plan Development. Ed has led numerous consulting engagements with INSIGHT clients in the areas of strategy, go-to market plans, services initiatives, developing new business models, and global coverage structures. Prior to INSIGHT, Ed had a distinguished 30-year career with IBM where he served on the Senior Management Group and managed numerous Global business Units. Ed is a frequent speaker at industry events and he currently serves on the board of advisors of Arizona State University's Center for Services Leadership.

More on Ed at INSIGHT
---
The INSIGHT Group is a management consulting firm dedicated to assisting product-based companies implement high growth services and solutions business plans and strategies. We help clients design and execute broad transformational initiatives including go to market strategies as they extend their product portfolio to include delivering capabilities as a service. Our partners are experienced line executives with a proven track record of helping our clients transform from a product-focused company to services and solutions led company.