Practice Development and Services Delivery Management
INSIGHT's comprehensive methodologies have been very effective in helping clients launch new industry or application focused industry services practices. Many product based firms have experienced significant services growth with high customer satisfaction by leverage existing assets and resources to provide services offerings that effectively address their customers' issues and opportunities.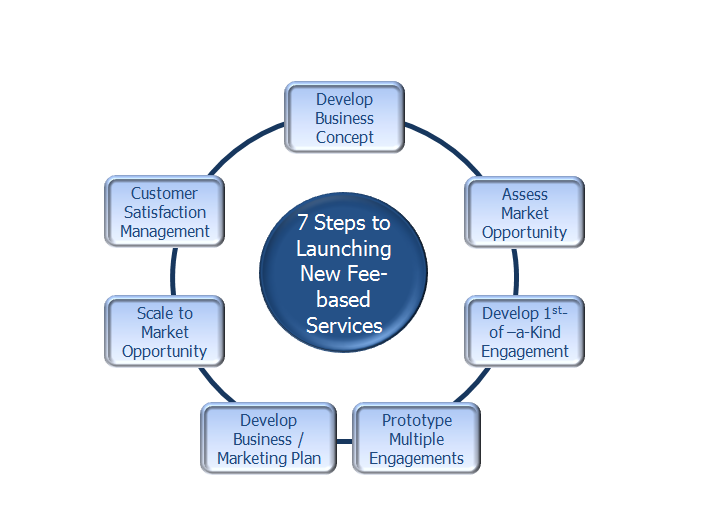 INSIGHT has developed easy to use frameworks and methodologies for developing all seven (7) steps. These methodologies and our experienced thought leaders have helped many of our clients build and/or renovate their fee-based consulting and services practices, offerings and service delivery capabilities. An important element of this practice's methodology is that most of the work will be done using a "how-to" skills transfer mentoring model where INSIGHT will help perform the actual work vs. just providing methods and advice.
Value to the client.....
In addition, to successfully launching new industry or application specific consulting services offerings and significant new revenues and profit, our clients tell us that we provide a substantial amount of organizational learning that helps them manage the services business after we leave; plus, best practice knowledge that has been learned thru our skills transfer approach can be applied to other areas of their business.
The Process…Our Approach.....
Working with the customer's core service and business solutions team members, INSIGHT will customize its field proven processes and methodologies to validate customer needs, establish initial high value offerings, and help close 1st of a kind opportunities. INSIGHT best-in-class processes will be customized to fit your business needs. Skill transfer will be provided to appropriate individuals for follow-on offerings opportunity assessments and new launches.
Offerings.....
In addition to the full end-to-end practice design, development and implementation capability outlined above, We offer best practices workshops, assessment of current practices, service delivery methods and offerings as well as operational practice business plan development.
---
For more information...