Insight's Cultural Challenge Series

#2 - Market Management and Marketing: Awareness Creation
October 2015
by Mike Byrnes, Managing Partner, and Ed Petrozelli, President & CEO, The Insight Group
The following article is one of a multi-part series on cultural challenges, utilizing The INSIGHT Group's 10 Elements under its Solutions / Services Business Model Architecture. The series' full introduction is reprinted below, but you can jump to this article's specific element #2 - Market Management & Marketing: Awareness creation by clicking here.
Introduction
As more product focused firms adopt an accelerated growth strategy using fee-based services & solutions, the number one inhibitor to profitable growth with high customer satisfaction is the desire to maintain their existing "product driven" business model, culture, and business processes. The essence of a successful services business centers on two principles:
Your firm's ability to dynamically allocate resources and assets to solve unique customer problems / issues across geographies & organizations, and
Your singular value proposition / measure of success being: "Did we improve our customer's competitive position?"
The key to executing these principles is not to sub-optimize either the services or product businesses, but to maximize shared assets, intellectual capital and expertise.
Critical to the success of installing / operating a services business model is the ability to establish a customer-centric business culture and supporting services business processes.
Culture Definition
Culture can be viewed as a system of shared beliefs, values, customs and behaviors, that the members of the company use to relate to their customers and with one another; these are transmitted from generation to generation through learning.
Peter Drucker (The Theory of the Business) sees business culture as the legacy behavior patterns that result from the previous successful business strategy / model. The longer the success, the more difficult it is to change; or even to remember why we do these things and behave this way.
A new business strategy / model requires changing / evolving your culture in order to execute it. In fact culture is the critical success factor in execution.
Services / Solutions Business Model Architecture
The Services / Solutions Business Model Architecture has ten design elements covering Go-To-Market Capabilities, Talent Management, and Business Management. Our experience has found that the existing culture is many times the largest barrier that the organization / leadership have in making the shift to this new model.
This series will examine the ten elements and point out some of the cultural challenges that can get in the way of making the change. For a more detailed description on each of the ten elements of INSIGHT's Solutions & Services Business Model Architecture, see the INSIGHT White Paper, Transforming into a Customer Solutions Business.
The Solutions & Services Business Model Architecture1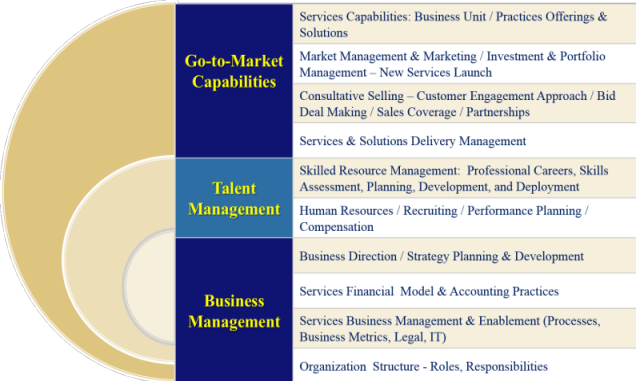 Let's discuss the impact of culture on Design Element #2: "Market Management & Marketing - Awareness Creation"
---
Service Business Model Element #2:
"Market Management & Marketing: Awareness Creation"
Market Management, Marketing, Investment & Portfolio Management, New Services Launch
New Capability Awareness
As product-led companies become more services and solution led, how should they position and build recognition for their consulting and services capabilities? Over the last 5 years, The INSIGHT Group asked over 500 'C- level' executives this exact question. Their answer to this awareness creation was part of a general discussion on market management and service marketing that included customer segmentation, customer wants and needs, coverage models, and lead generation.

There are five consistent strategies identified by these executives as how their companies were increasing their current and prospective customers' awareness of their services and solutions capabilities. Their number one goal was generate qualified leads.
These five strategies are:
1. Use testimonials and references that demonstrate results

These testimonials need to be focused on the business value, benefits, and ROI that their services and solutions offerings provide. Where possible use the business results of an industry market leader to validate their capabilities.

2. Participate in targeted vertical conferences

Correctly selected vertical conferences can be a good way to communicate a company's new capabilities. The best results occurred where a company takes a high visibility leadership role like main tent keynote speaker, presenting an industry paper, or participating in a break out session.

3. Engage thought leaders in the process

Moving a company's thought leaders up in the sales process is an effective way of demonstrating a company's capabilities and talent; building confidence that the new solution is viable and that they understand the key industry issues.

4. Consultative selling – Initiate more 'C' level calls and presentations

Business solution decisions are made at higher levels in the client company than many product decisions. Gaining access to more 'C- level' executives and communicating your solution story--including capabilities and potential business impact--is critical to make the right people aware of your capabilities and ultimately grow your services and solutions business.

5. Use both social and traditional media to get your word out

This strategy has evolved over the last few years, transitioning from traditional media (like industry journals) to more social media (like LinkedIn). The recent feedback has been that successful services and solutions companies are using both forms of media as part of an integrated marketing strategy.
The Impact of Culture in Awareness Generation
"Opting to transtion from product to services and solution stratgies frequently requires firms to do more than infuse services and solutions into their business models, but to craft whole new relationship-based models." 2 This is a major cultural change which impacts a company's awareness generation strategy. So in this new services-led world, increasing current and prospective customers' awareness of your services and solutions capabilities requires new thinking and a new marketing model. Using these five strategies as a check list may help your company 'get the word out' and generate more qualified leads.
Next Element: #3: Deal Making.
| | |
| --- | --- |
| | 1. "Solutions & Services Business Model Architecture Graphic" Intellectual Capital owned by The INSIGHT Group |
| | |
| | 2. "Profiting From Services and Solutions – What Product-Centric Firms Need to Know" by Valarie A. Zeithaml, Stephen W, Brown, Mary Jo Bitner and Jim Salas |
---
If you would like more information on this topic, contact Mike Byrnes (mbyrnes@insight-group.com) or Ed Petrozelli (epetro@insight-group.com)
Mike Byrnes is INSIGHT's Strategic Account Management Practice Leader. He has consulted with a wide variety of organizations where he has assisted them in improving their global account management and revamping their services organization. He has over 35 years of experience in IT, sales, business strategy and management. Mike has been a speaker at the Strategic Account Management (SAMA) annual conference and led 2 joint studies with Arizona State University's Center for Services Leadership.

More on Mike at INSIGHT
Ed Petrozelli is INSIGHT's President & CEO, and is responsible for Business and Market Plan Development. Ed has led numerous consulting engagements with INSIGHT clients in the areas of strategy, go-to market plans, services initiatives, developing new business models, and global coverage structures. Prior to INSIGHT, Ed had a distinguished 30-year career with IBM where he served on the Senior Management Group and managed numerous Global business Units. Ed is a frequent speaker at industry events and he currently serves on the board of advisors of Arizona State University's Center for Services Leadership.

More on Ed at INSIGHT
---
The INSIGHT Group is a management consulting firm dedicated to assisting product-based companies implement high growth services and solutions business plans and strategies. We help clients design and execute broad transformational initiatives including go to market strategies as they extend their product portfolio to include delivering capabilities as a service. Our partners are experienced line executives with a proven track record of helping our clients transform from a product-focused company to services and solutions led company.