Insight's Cultural Challenge Series

#3 - Deal Making
August 2015
by Tom Esposito, Chairman, and Peter Lyons, Partner, The Insight Group
The following article is one of a multi-part series on cultural challenges, utilizing The INSIGHT Group's 10 Elements under its Solutions / Services Business Model Architecture. The series' full introduction is reprinted below, but you can jump to this article's specific element #3 - Deal Making by clicking here.
Introduction
As more product focused firms adopt an accelerated growth strategy using fee-based services & solutions, the number one inhibitor to profitable growth with high customer satisfaction is the desire to maintain their existing "product driven" business model, culture, and business processes. The essence of a successful services business centers on two principles:
Your firm's ability to dynamically allocate resources and assets to solve unique customer problems / issues across geographies & organizations, and
Your singular value proposition / measure of success being: "Did we improve our customer's competitive position?"
The key to executing these principles is not to sub-optimize either the services or product businesses, but to maximize shared assets, intellectual capital and expertise.
Critical to the success of installing / operating a services business model is the ability to establish a customer-centric business culture and supporting services business processes.
Culture Definition
Culture can be viewed as a system of shared beliefs, values, customs and behaviors, that the members of the company use to relate to their customers and with one another; these are transmitted from generation to generation through learning.
Peter Drucker (The Theory of the Business) sees business culture as the legacy behavior patterns that result from the previous successful business strategy / model. The longer the success, the more difficult it is to change; or even to remember why we do these things and behave this way.
A new business strategy / model requires changing / evolving your culture in order to execute it. In fact culture is the critical success factor in execution.
Services / Solutions Business Model Architecture
The Services / Solutions Business Model Architecture has ten design elements covering Go-To-Market Capabilities, Talent Management, and Business Management. Our experience has found that the existing culture is many times the largest barrier that the organization / leadership have in making the shift to this new model.
This series will examine the ten elements and point out some of the cultural challenges that can get in the way of making the change. For a more detailed description on each of the ten elements of INSIGHT's Solutions & Services Business Model Architecture, see the INSIGHT White Paper, Transforming into a Customer Solutions Business.
The Solutions & Services Business Model Architecture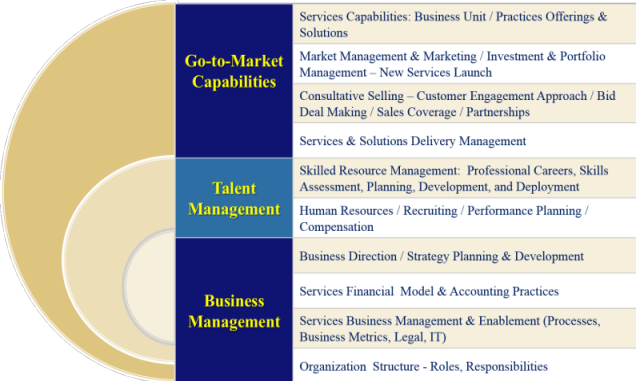 Let's discuss the impact of culture on Design Element #3: "Deal Making"
---
Service Business Model Element #3:
"Deal Making"
Consultative Selling / Customer Engagement Process including Complex Bids, Sales Coverage, Common Rewards Framework & Strategic Account Management
The Sell-Make-Deliver sequence is a best practice not a misprint. You can display and discuss your company's capabilities in the universal language of the customer. Mapping your capabilities to your customer's problems is the best way to determine where you can bring value.
Is your organization so wedded to the product culture – push – selling mode (Make-Sell-Deliver) that you can't even consider trying a way to help customers solve their problems?
There is always a reluctance to go to market without a fully developed offering portfolio. You don't know what to say to customers. However this is all about listening and most importantly asking the right questions… staying away from proposing your solution on the 1st call before you truly understand what business problem the customer is trying to solve.
Accept the humble approach; only discuss those capabilities that relate to your customer's priorities / business problems…. ask the customers for advice about the value of your capabilities. You can describe them quite easily in a proven framework aligned to the customer's business vs your business.
You can adopt this quicker, simpler surer way to high growth and high customer sat (net promoter score) if you can shift your mindset from adding value to your company's product to adding value to your customer's business. Can your organization embrace that thought?
A good start to answering that question is to ask about your firm's cultural readiness; is there substantial evidence that your business culture can adopt the customer-centric sales behavior described above?
Next Element: #4: Services Delivery Management.
| | |
| --- | --- |
| | 2. "Solutions & Services Business Model Architecture Graphic" Intellectual Capital owned by The INSIGHT Group |
| | | |
| --- | --- | --- |
| | | |
| | | Download White Paper |
---
If you would like more information on this topic, contact Tom Esposito (esposr@insight-group.com) or Peter Lyons (pflyons@insight-group.com)
Tom Esposito is Chairman and Founder of The Insight Group. Prior to INSIGHT, Tom had a distinguished career at IBM with a broad range of responsibilities, including senior executive positions in organization and management systems, marketing, and services where he was Vice President of Global Consulting and Services and Chairman of the Services Executive Council. Tom is credited as one of the key architects of IBM's Global Services business, which today is IBM's largest & fastest growing business.

More on Tom at INSIGHT
Peter Lyons heads the Executive and Leadership Development practice at INSIGHT. He has extensive experience as a business coach and practice leader. Peter spent 10 years in DuPont's in-house business consulting organization where he led both the Strategy Execution and Services Business Growth practices. He helped design and deliver a Six Sigma-based Marketing and Innovation Process Champion training program to hundreds of marketing and technology executives, a leadership certification program designed to train the future leaders of DuPont.

More on Peter at INSIGHT
---
The INSIGHT Group is a management consulting firm dedicated to assisting product-based companies implement high growth services and solutions business plans and strategies. We help clients design and execute broad transformational initiatives including go to market strategies as they extend their product portfolio to include delivering capabilities as a service. Our partners are experienced line executives with a proven track record of helping our clients transform from a product-focused company to services and solutions led company.