A Business Model Revolution is Underway... How Long Can Your Product Business Successfully Compete?
October 2016
by Tom Esposito, Chairman, & Peter Lyons, Partner, The Insight Group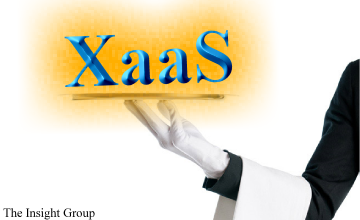 "As a Service" Business Model Perspective
Unlike more traditional hierarchies employed by most product companies, the services business structures look more like "virtual" networks of expert teams, formed to meet rapidly evolving customer needs. These teams of individuals, selected for their "customer valued" skills, solve problems more quickly, improving the competitiveness of both client and firm alike.
"Successful incumbent firms are more likely to follow the trajectory of Kodak, Sears, Bethlehem Steel, and many newspapers, dead or diminished after technology transformed their industries. Little wonder that for the past two years, when we have asked Fortune 500 CEOs to name their single biggest challenge, their No. 1 answer has been 'the rapid pace of technological change.'"

-Geoff Colvin
Rather than just products, they use an integrated offerings approach of products, services, IP, Infrastructure and assets in partnership with other solution providers and clients to createsignificant value for their clients. The recent rapid infusion of technology into the business model (hybrid cloud, social media, big data/analytics, augmented reality, mobility, IoT* etc.) has created new disruptive delivery models such as "Anything-as-a-Service" (XaaS). In order to take advantage of XaaS often requires significant changes to existing company culture, how business is managed, IT Infrastructure, and how they engage their people. The ability to dynamically allocate skilled resources and intellectual assets to opportunities becomes the key for sustained success of individuals and an organization's ecosystem.
Success in this new business model for most product firms will be tied to a clear understanding of the key elements of the "technology-enabled" services and solutions business model and how it differs from the current legacy model. In addition, you will need to acquire new skills and capabilities, transform the culture, and implement best-in-class services business processes. To thrive in this technology-enabled business model companies will also have to become technology firms with top notch software application development capabilities and strategic partnerships.
Key Questions — A New Playbook
To achieve a best-in-class, readiness "health check" for your services and solutions units and/or business, it is important to assess current business management practices, offerings development capabilities, go-to-market capabilities, and talent management. The Insight Group has formulated 15 questions across these four areas to assist your business in moving forward. These questions and more can be found in our downloadable white paper below.
| | | |
| --- | --- | --- |
| | | |
| | | Download White Paper |
| | | "A Business Model Revolution is Underway" |
---
If you would like more information on this topic, contact Tom Esposito (esposr@insight-group.com) or Peter Lyons (pflyons@insight-group.com)
Tom Esposito is Chairman and Founder of The Insight Group. Prior to INSIGHT, Tom had a distinguished career at IBM with a broad range of responsibilities, including senior executive positions in organization and management systems, marketing, and services where he was Vice President of Global Consulting and Services and Chairman of the Services Executive Council. Tom is credited as one of the key architects of IBM's Global Services business, which today is IBM's largest & fastest growing business.

More on Tom at INSIGHT
Peter Lyons heads the Executive and Leadership Development practice at INSIGHT. He has extensive experience as a business coach and practice leader. Peter spent 10 years in DuPont's in-house business consulting organization where he led both the Strategy Execution and Services Business Growth practices. He helped design and deliver a Six Sigma-based Marketing and Innovation Process Champion training program to hundreds of marketing and technology executives, a leadership certification program designed to train the future leaders of DuPont.

More on Peter at INSIGHT
---
The INSIGHT Group is a management consulting firm dedicated to assisting product-based companies implement high growth services and solutions business plans and strategies. We help clients design and execute broad transformational initiatives including go to market strategies as they extend their product portfolio to include delivering capabilities as a service. Our partners are experienced line executives with a proven track record of helping our clients transform from a product-focused company to services and solutions led company.