Transforming into a Customer Solutions Business

Part II: Operating the Services / Solutions Business Model
June 2015
by Tom Esposito, Chairman, and Peter Lyons, Partner, The Insight Group
Following is part 2 of a two-part article. Part 1 of the article can be found here
Summary
The power has shifted in the marketplace. The customer ecosystem is now the organizing entity; and the business model has become the competitive arena. To succeed, maybe even survive, companies need to learn how to operate a new solutions / services business model while simultaneously optimizing their existing business. As a CEO it's important to understand how this services business model works and how it can impact your transformation and accelerate the improvement / growth of your overall business.

2. How It's Different
The solutions / services business model is not complicated but it is very different than the product business model. Product centric firms have been successful and are comfortable with the traditional organization - multi-layered "hierarchies" of business and functional units that provide centralized planning and decision-making. In contrast the solutions / services organizations have to be more agile…less constrained by organizational or geographic walls -- networks of competencies and thought leaders that are closer to the customer and able to adapt more quickly to shifts in technology, markets, and customer needs. Expert teams form and rapidly deploy to client locations to sell, develop, customize and deliver integrated solutions & services offerings to help solve "unique" customer problems. Innovation is built into this model since you are always close to the customer and understanding what job the customer is trying to improve.
These organizations are flatter with many more professionals reporting to managers than the traditional hierarchical structures and fewer layers of management. Communications between knowledge workers is also not constrained by reporting structures and roles. Communication networks are more defined by communities of subject matter experts vs. organizational structures. The essence of the solutions & services business is to create customer value by identifying and rapidly committing your firms thought leaders, assets, intellectual capital and infrastructure to help solve your customers' business problems
3. How It Works
The solutions / services business model has 10 critical design elements (see exhibit below The Solutions & Services Business Model Architecture*) which are grouped into three major categories.
The Solutions & Services Business Model Architecture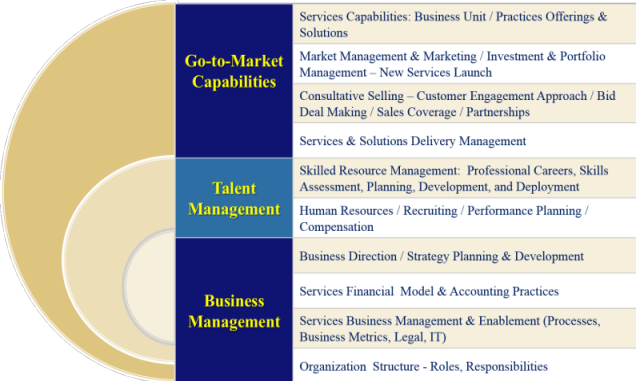 Go-To-Market Capabilities: The focus of the is on individual buyers within customers within a market or market segment.
Talent Management: Recognizing that the employees are no longer an expense but in most cases become revenue generating units (RGU).
Business Management: Managing by process versus by organizational structure.
[These elements are further described in the full white paper, which can be downloaded below]
4. Impacting Your Transformation
Gaining knowledge of the services business model and culture is a continuing journey and a critical success factor for senior leaders. Success is rooted in the ability to manage two business models (the product business & the services business) effectively and simultaneously with their uniquely different cultures, business metrics, and operating processes. In addition, learning how to share capabilities across the two models and beginning to use the project approach to managing work in the product business can accelerate the overall transformation to a customer solutions business.
Making the shifts / changes to implement the services business model is challenging, but some companies (IBM, GE, Xerox) have succeeded. Why should you consider doing this? It's simple. It's the best and most sustainable way to improve your revenue and profit growth by providing more value to your customers.
Is your company considering or even in the midst of this transformation? What have been the challenges you have encountered or are encountering? What have you found beneficial in impacting this change?
The full white paper on which this article is based can be downloaded below.
| | |
| --- | --- |
| | 2. "Solutions & Services Business Model Architecture Graphic" Intellectual Capital owned by The INSIGHT Group |
| | | |
| --- | --- | --- |
| | | |
| | | Download White Paper |
---
If you would like more information on this topic, contact Tom Esposito (esposr@insight-group.com) or Peter Lyons (pflyons@insight-group.com)
Tom Esposito is Chairman and Founder of The Insight Group. Prior to INSIGHT, Tom had a distinguished career at IBM with a broad range of responsibilities, including senior executive positions in organization and management systems, marketing, and services where he was Vice President of Global Consulting and Services and Chairman of the Services Executive Council. Tom is credited as one of the key architects of IBM's Global Services business, which today is IBM's largest & fastest growing business.

More on Tom at INSIGHT
Peter Lyons heads the Executive and Leadership Development practice at INSIGHT. He has extensive experience as a business coach and practice leader. Peter spent 10 years in DuPont's in-house business consulting organization where he led both the Strategy Execution and Services Business Growth practices. He helped design and deliver a Six Sigma-based Marketing and Innovation Process Champion training program to hundreds of marketing and technology executives, a leadership certification program designed to train the future leaders of DuPont.

More on Peter at INSIGHT
---
The INSIGHT Group is a management consulting firm dedicated to assisting product-based companies implement high growth services and solutions business plans and strategies. We help clients design and execute broad transformational initiatives including go to market strategies as they extend their product portfolio to include delivering capabilities as a service. Our partners are experienced line executives with a proven track record of helping our clients transform from a product-focused company to services and solutions led company.