Insight's Cultural Challenge Series

#4: Services & Solutions Delivery Management
December 2015
by Tom Esposito, Chairman & Managing Partner, The Insight Group
The following article is one of a multi-part series on cultural challenges, utilizing The INSIGHT Group's 10 Elements under its Solutions / Services Business Model Architecture. The series' full introduction is reprinted below, but you can jump to this article's specific element #4 - Services & Solutions Delivery Management by clicking here.
Introduction
As more product focused firms adopt an accelerated growth strategy using fee-based services & solutions, the number one inhibitor to profitable growth with high customer satisfaction is the desire to maintain their existing "product driven" business model, culture, and business processes. The essence of a successful services business centers on two principles:
Your firm's ability to dynamically allocate resources and assets to solve unique customer problems / issues across geographies & organizations, and
Your singular value proposition / measure of success being: "Did we improve our customer's competitive position?"
The key to executing these principles is not to sub-optimize either the services or product businesses, but to maximize shared assets, intellectual capital and expertise.
Critical to the success of installing / operating a services business model is the ability to establish a customer-centric business culture and supporting services business processes.
Culture Definition
Culture can be viewed as a system of shared beliefs, values, customs and behaviors, that the members of the company use to relate to their customers and with one another; these are transmitted from generation to generation through learning.
Peter Drucker (The Theory of the Business) sees business culture as the legacy behavior patterns that result from the previous successful business strategy / model. The longer the success, the more difficult it is to change; or even to remember why we do these things and behave this way.
A new business strategy / model requires changing / evolving your culture in order to execute it. In fact culture is the critical success factor in execution.
Services / Solutions Business Model Architecture
The Services / Solutions Business Model Architecture has ten design elements covering Go-To-Market Capabilities, Talent Management, and Business Management. Our experience has found that the existing culture is many times the largest barrier that the organization / leadership have in making the shift to this new model.
This series will examine the ten elements and point out some of the cultural challenges that can get in the way of making the change. For a more detailed description on each of the ten elements of INSIGHT's Solutions & Services Business Model Architecture, see the INSIGHT White Paper, Transforming into a Customer Solutions Business.
The Solutions & Services Business Model Architecture1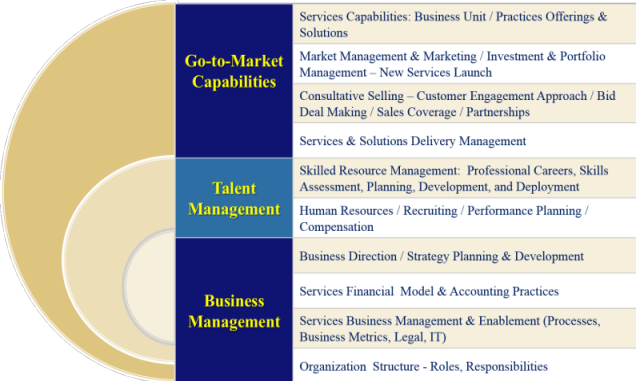 Let's discuss the impact of culture on Design Element #4: "Services & Solutions Delivery Management"
---
Service Business Model Element #4:
"Services & Solutions Delivery Management"
Services Delivery, Engagement Administration & Management
A "Dual Model" Business
The intent of the INSIGHT articles on "Business Culture" is to help firms identify some of the most important behavioral/cultural differences between managing the Product Business Model vs. managing the "Services & Solutions Business Model and hopefully to assure a more successful management of both models in a single enterprise.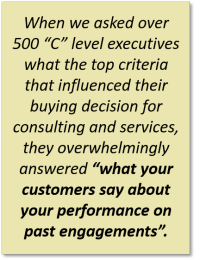 One of the most important management elements of the Services & Solutions Business Model is your firm's ability to deliver your capabilities in an exceptional manner; meeting all of the commitments made during the sales/deal making part of the engagement. (Refer to prior article on Element #3 "Deal Making"). When we surveyed over 500 "C" level executives on what the top criteria that influenced their buying decision for consulting and services, they overwhelmingly answered "what your customers say about your performance on past engagements". Most product firms have very strong processing for measuring customer satisfaction with their products but are usually not completely aware of the important differences in how services and solutions firms manage the delivery processes from project management through customer satisfaction management.
The "Services Delivery Management" Element of the Services Business Management Process (SBMP) has four (4) highly aligned business processes:

End of Engagement: Reaping the Full Benefits
This article will be focus on the End-of-Engagement (EOE) or Engagement Complete Process. This phase of the end-to-end Services Business Management Process terminates all activities on the engagement only after it has been assured that all contractual obligations have been met and the customer project executive is in complete agreement. The overall engagement is evaluated for effectiveness and identification of what can be learned to improve future engagements but also to identify follow-on business. This approach is very different from product-based customer satisfaction reviews which generally occur formally once a year. The EOE process is executed after each engagement or every six month for multi-year engagements.
The EOE process provides critical information to significantly improve multiple elements of your services & solutions business. It is designed to ensure you're your organization learns from each engagement and helps accomplish the following five objectives:
1. Ensure that this knowledge is used to continuously improve your offering, sales & delivery processes




2. Gain agreement from the customer project executive on the elements of satisfaction




3. Assess performance of the professionals who delivered the engagement




4. Identify all follow-on business




5. Identify potential reference & testimonial opportunities



It has been our experience that most product firms who are implementing services businesses do not reap the full benefits of assessing every engagement.
The Impact of Culture in End-of-Engagement Management
In this Engagement Complete Process, we again find an opportunity for the innovative use of 'voice of the customer' (VOC) which occurs toward the end of the engagement. Asking in a rigorous, disciplined fashion about how you are doing and what you need to change to win more of their business for each project is critical and unique to the services business. The constant listening, learning, and improving enables you to deliver even more value to your customer, to grow your business, and to stay on top of current challenges. It also gives you real time evaluation of your people enabling them to grow and improve. You get better and better at solving today's problems and understanding the job the customer is trying to improve for tomorrow's offerings. VOC at this stage helps you not only find the opportunities but to refine your offerings and upgrade your capabilities in order to maintain relevance and value to your customers.
Next Element: #5: Skilled Resources Management.
| | |
| --- | --- |
| | 1. "Solutions & Services Business Model Architecture Graphic" Intellectual Capital owned by The INSIGHT Group |
| | |
| | |
---
If you would like more information on this topic, contact Tom Esposito (esposr@insight-group.com)
Tom Esposito is Chairman and Founder of The Insight Group. Prior to INSIGHT, Tom had a distinguished career at IBM with a broad range of responsibilities, including senior executive positions in organization and management systems, marketing, and services where he was Vice President of Global Consulting and Services and Chairman of the Services Executive Council. Tom is credited as one of the key architects of IBM's Global Services business, which today is IBM's largest & fastest growing business.

More on Tom at INSIGHT
---
The INSIGHT Group is a management consulting firm dedicated to assisting product-based companies implement high growth services and solutions business plans and strategies. We help clients design and execute broad transformational initiatives including go to market strategies as they extend their product portfolio to include delivering capabilities as a service. Our partners are experienced line executives with a proven track record of helping our clients transform from a product-focused company to services and solutions led company.